Tieks Review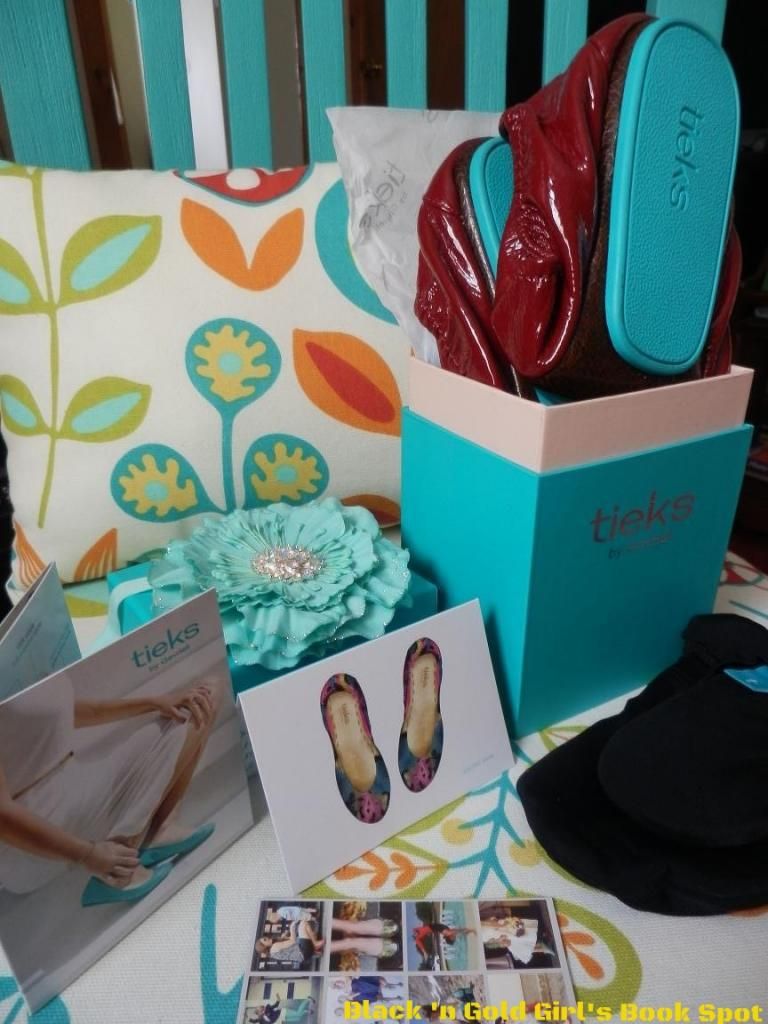 My Tieks arrived in this pretty blue box
with the flower, drawstring pouch,
Tieks info card, and a sweet
handwritten note. Sorry, the blue
chair and cushion aren't included. ;-)
Ahhh the first day of fall, isn't it refreshing? Meh. I don't care for it. Bet you thought that was going to go a different way, didn't ya? Well, even though I don't care for the arrival of the cooler weather, I do appreciate the fact that I can once again break out the boots! Yay! However, if you're a flip flop wearing girl like I am, the transition from almost going barefoot to encapsulating the ol' tootsies in thick socks and leather can be a difficult thing! Luckily, I have found
the
perfect shoes to help with the aspect of transitioning my feet from summer warmth to fall chill --
Tieks by Gavrieli.
Just what the heck are Tieks? you may be wondering. Tieks are a fabulous line of high quality leather (don't worry, there are
vegan choices
too!) ballet flats available in a variety of shades, colors, and patterns, to suit just about everyone's tastes. Each shoe is accented with the classic Tieks blue sole and heel accent. The
patent leather
and
prints
are two of my favorite collections.
Vacation time!
My ruby red Tieks at the Ocracoke
lighthouse in North Carolina.
To make them even more special, Tieks are foldable! Yeah, you just read that. They. Are. Foldable. How awesome is that!? I just went on vacation and I rarely pack more than one extra pair of shoes just because they normally take up so much space, buuuut I was able to include my pair of ruby red patent leather Tieks in the side pocket of my duffle tote! The fact that they fold makes them perfect for travel. They're also nice for work. Slip off those high heels after a long day and pull the Tieks out of your purse and get cozy. Since every pair comes with a drawstring bag for storage, you don't have to worry about any dirt or dust getting inside of your luggage or purse.
There are so many reasons to love Tieks. As I mentioned the style and portability are definitely sweet, but the main reason I love my Tieks is the comfort. I don't know about you, but in my experience flats are just about the most uncomfortable shoes you can wear. The elastic that most shoe companies utilize in and around the back heel of the shoe is the WORST. After a few hours, it's digging into the Achilles and it hurts like an I don't know what! Thankfully, Tieks are cushioned rather than elasticized at the heel and at the sole to give the wearer added comfort. Just a hint too, if you're thinking about getting a pair (or two!) for yourself and you are between sizes, you might want to go a size up. The site reads to go a size down, but if I had done that I would have had to return my shoes. Usually I'm an 8.5, but the 9 was a nice, snug fit.
Denim + Tieks!
I gotta say, Tieks are probably my favorite pair of shoes right now. With all of the brilliant colors and overall design of these ballet flats, it's no wonder
Oprah loves them too
. I definitely give these shoes an "A" or if you follow my star rating, a 4.5 out of 5. I wish they were a little more affordable for everyone (prices start at $175), but after having worn them for over a month, they are holding up well, so I think they're worth the extra bucks. Hopefully, I'll be able to treat myself to another pair sometime soon...if I can decide on a color! I want them all!!!
Visit the exclusive online "Boutiek" and check out the flats for yourself.
Don't forget to follow Tieks via social media to stay up to date on all the latest news.
Facebook | Twitter | Pinterest | Instagram
******************
I'd love to hear about your plans for transitioning your wardrobe from summer to fall. Do you have any go-to pieces that you can't live without? Style tips? Let me know in the comments section of this post!