It's Animal Welfare Week ~ Check Out Doghouse by L.A. Kornetsky (Pocket Books Fiction)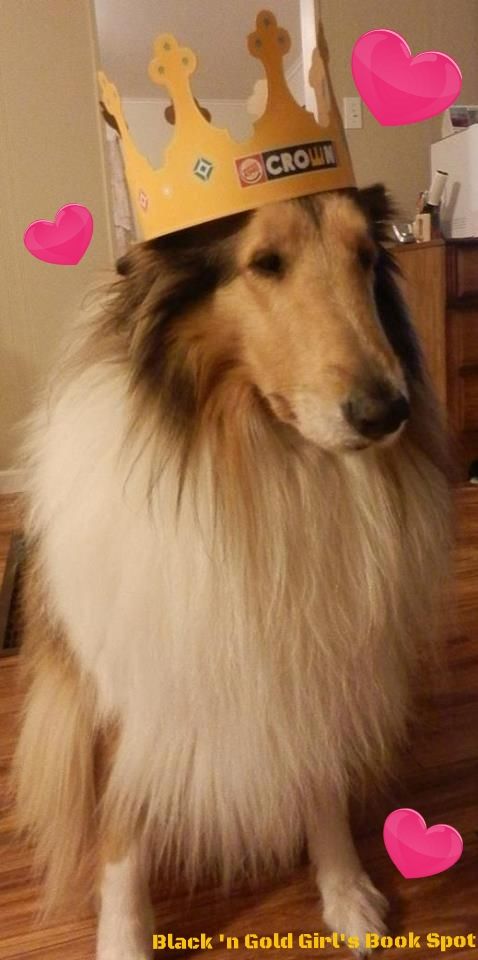 Coco says, "I'm a queen and
I have the crown to prove it!"
You may not know it, but it's Animal Welfare Week through October 11 and National Animal Shelter and Rescue Appreciation Week November 2 - 8. I don't know about you, but I would be lost without my furry friends. Coco is queen of the castle here at
Black 'n Gold Girl's Book Spot
and she's helping me celebrate critters everywhere with this special post featuring L. A. Kornetsky and her latest novel,
Doghouse
. If you love a mystery with a twist (anthropomorphic characters), this is a book you'll want to get your hands (or paws!) on.
************
The ASPCA and kitty, Pandora by L.A. Kornetsky:
I'm getting ready for a move, and part of that is decluttering. Getting rid of things – objects, old paperwork – that I don't need to haul with me any more.
But in a folder of otherwise no-longer-needed papers, there's a sheet I'm keeping. It's from the ASPCA, and it documents my adoption of the kitten once known as Minna, who became my beloved Pandora, gone now a little over a year.
There's no point to keeping the sheet of paper. All it does is say that I paid x amount for a 4 month old female tiger kitten, spayed. But throwing it out isn't an option, either. Because this was the first connection I had to Pandora, the first contract we made with each other: I would give her food, shelter, care, and a lap when she wanted it. I would give her a home. And in return, she gave me such love and companionship, letting her go at the end was no less a pain than losing a human friend.
I don't have documentation from Indy-J, who was found on the street as a weeks-old kitten, and lived a long and adventurous life before cancer took her in 2000. But Pandora's adoption paper will go in the current file, along with the papers for our current residents, Boomerang (aka Boomer you idiot), and Castiel the Kitten of Thursday (aka DamnitCas).
Because you keep the important moments, the documents that say "this is how you changed my life."
(and some of you may note that I invite disaster in the renaming of my cats. You would not be wrong. But where's the fun of living with Sir Napsalot?)
About the author:
L. A. Kornetsky is the author of two previous Gin & Tonic mysteries. She lives in New York City with two cats and a time-share dog, and also writes fantasy under the name Laura Anne Gilman. She welcomes visitors to
www.lauraannegilman.net
, @LAGilman and Facebook L-A-Kornetsky.
Doghouse, A Gin & Tonic Mystery
by LA Kornetsky
Copyright 2014
Pocket Books Fiction
ISBN: 9781476750040
Praise for the third Gin & Tonic Mystery,
Doghouse
:
"Infamously nosy Ginny Mallard may be unlicensed as an investigator, but she has begun to make a name for herself as the unofficial champion of the tongue-tied. In the third installment of L.A. Kornetsky's Gin & Tonic Mystery series, Doghouse finds Ginny getting herself tied up in a possible underground dogfighting ring. With help from her bartender friend Teddy Tonica, his tabby cat and Ginny's Shar Pei puppy, they have to figure out what's going on before someone else gets hurt."
—Cat Fancy Magazine, November 2014 issue
"Sniffing out clues…L.A. Kornetsky brings back Ginny Mallard and her bartender friend Teddy Tonica, along with Ginny's pet shar-pei puppy and Teddy's tabby cat, for their third outing in Doghouse."
Library Journal
***************
My Thoughts:
I'm a sucker when it comes to stories that center around dogs and cats. I'll admit I rarely get to read them, but when I do they are some of my favorites.
Doghouse
, book 3 in the Gin and Tonic series not only features a fun and sassy human Ginny Mallard, but her four-legged friend Georgie the shar-pei too. Did I mention a cool calico who talks? Yup. This book just about has it all. At first I thought that the anthropomorphic aspects of the story would be a little strange, but since the animals aren't actually talking to their humans we just see their thoughts on the page, it worked!
The mystery itself itself is pretty interesting too! Dogfighting, puppy mills, and explosions make this a super intense ride. I'm really sensitive when it comes to stories with themes involving animal abuse (I cry during those ASPCA commercials EVERY TIME), so it was a bit difficult for me to read this even though it wasn't overly detailed. I absolutely loved the chemistry between Ginny and Teddy and very much look forward to seeing what happens next with these two sleuths!
If you haven't read the previous two books in the series, these stand alone so go ahead and grab this book if you're looking for a great mystery!
*I receive complimentary books for review from publishers, publicists, and/or authors. I am not required to write positive reviews. The opinions I have expressed are my own. I am disclosing this in accordance with the Federal Trade Commission's 16 CFR, Part 255.*
~ My Rating: 4 out of 5 stars ~
Happy Reading!