TLC Book Tours: The Rain Sparrow by Linda Goodnight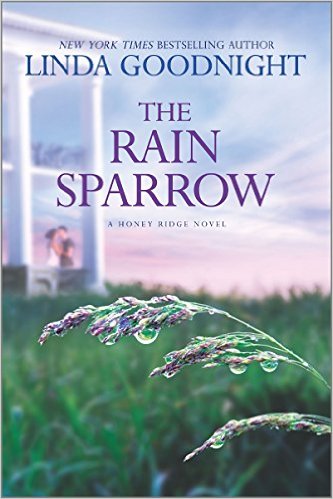 The Rain Sparrow
by Linda Goodnight
Copyright 2016
Available Now!
The Story:
A stranger's arrival in a small Southern town stirs up old secrets and new dreams in this beautiful story full of hope and haunting mystery, and with the power to win your heart.
Renowned yet private, thriller writer Hayden Winters lives a life colored by lies. As he is deeply ashamed of his past, his hunger for an honest relationship and dreams of starting a family remain unsatisfied, and he can trust no one with his secrets. He's determined to outrun his personal demons, but the charming old Peach Orchard Inn and a woman whose presence is as gentle as a sparrow's song stops him in his tracks.
Carrie Riley is afraid of everything from flying to thunderstorms, and pretty much of life itself. But meeting the enigmatic writer staying at the inn emboldens her to learn everything about him. When they discover a vulnerable boy hiding at the inn, Hayden is compelled to help Carrie protect him. Soon they're led to a centuries-old mystery that haunts Hayden's sleep, and his only safe haven is Carrie. As the secrets of the past and present cause their lives to become entwined, all that's left to come to light is love—if the grim truth doesn't tear them apart first.
Read what others are saying about the book on the
TLC Book Tour page
!
Connect with Linda
My Thoughts:
When given more pages to develop a story, Linda Goodnight excels. I'm not much of a fan of her shorter Love Inspired books, but these wordy novels of hers are fabulous. I knew I'd love this story when the first few pages had me feeling all the feels for not just Hayden and Carrie, but little Brody as well. Ms. Goodnight really went straight for the gut punch with this one. Don't get me wrong, this book is a sweet romance, but alcohol abuse, drug abuse, and emotional abuse are a few themes at the heart of the story that really make it relevant to issues so many face today. The story within the story is another bonus. Hayden is a writer, so the glimpse we're given of the historical romance as it is playing out in his head is quite the treat in itself. Gotta love multiple romances in one book! The Rain Sparrow is a must read for contemporary romance lovers!