Moriarty by Anthony Horowitz ~ TLC Book Tour (My Review)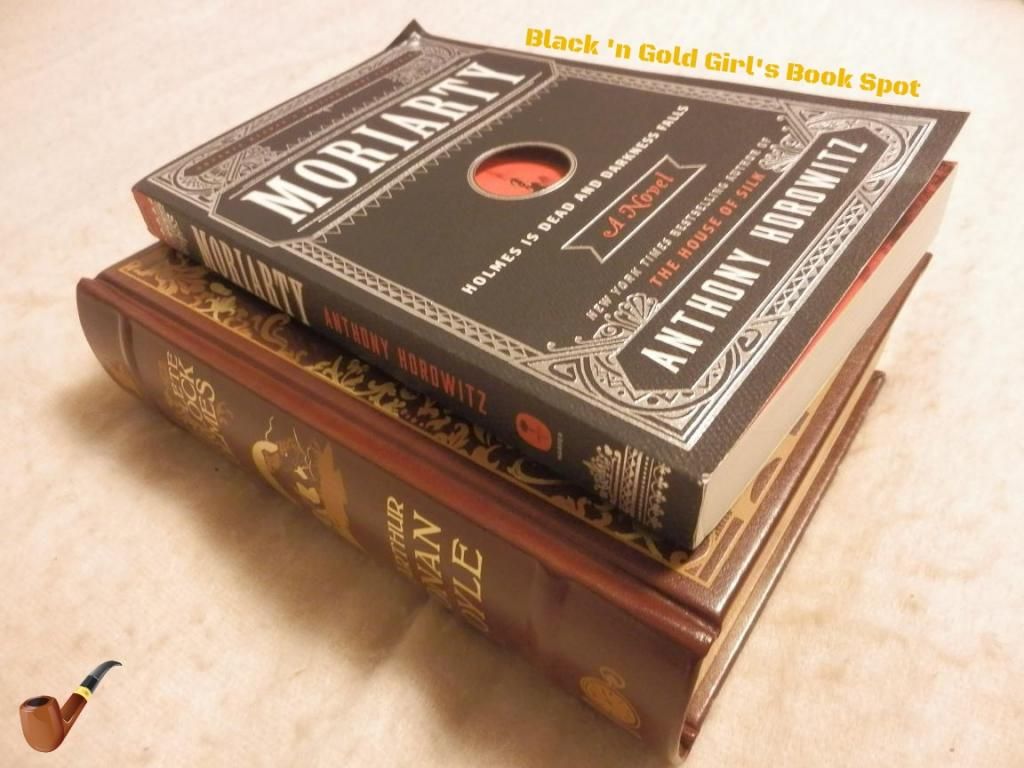 The Story:
The game is once again afoot in this thrilling mystery from the bestselling author of The House of Silk, sanctioned by the Conan Doyle estate, which explores what really happened when Sherlock Holmes and his arch nemesis Professor Moriarty tumbled to their doom at the Reichenbach Falls.
Internationally bestselling author Anthony Horowitz's nail-biting new novel plunges us back into the dark and complex world of detective Sherlock Holmes and Moriarty—dubbed the Napoleon of crime" by Holmes—in the aftermath of their fateful struggle at the Reichenbach Falls.
Days after the encounter at the Swiss waterfall, Pinkerton detective agent Frederick Chase arrives in Europe from New York. Moriarty's death has left an immediate, poisonous vacuum in the criminal underworld, and there is no shortage of candidates to take his place—including one particularly fiendish criminal mastermind.
Chase and Scotland Yard Inspector Athelney Jones, a devoted student of Holmes's methods of investigation and deduction originally introduced by Conan Doyle in "The Sign of Four", must forge a path through the darkest corners of England's capital—from the elegant squares of Mayfair to the shadowy wharfs and alleyways of the London Docks—in pursuit of this sinister figure, a man much feared but seldom seen, who is determined to stake his claim as Moriarty's successor.
A riveting, deeply atmospheric tale of murder and menace from one of the only writers to earn the seal of approval from Conan Doyle's estate, Moriarty breathes life into Holmes's dark and fascinating world.
Moriarty
by Anthony Horowitz
Copyright 2014
Harper Books
ISBN: 9780062377180
My Thoughts:
You won't find a bigger fangirl than me when it comes to anything to do with Sherlock Holmes or
Foyle's War
, the hit British TV series. Naturally when I found out about this new series endorsed by the Conan Doyle estate and penned by the creator of Foyle's War, I was ecstatic to say the least. Moriarty did not disappoint. Kudos to Horowitz on this terrific addition to those stories most of us know and love.
If you're familiar with the original stories or even the movies and TV series' that have resulted from those famed tales of the last century, this series is a must read. I haven't read the first book
The House of Silk
, but
Moriarty
tells the story of what could've, should've, or would've happened while Sherlock and Moriarty were "dead". Right from the first line, I just KNEW I wasn't going to be able to set this book aside. It took a little while to get used to the style of the narrative, but I ended up getting pulled in as quickly as Holmes and Moriarty tumbled over the falls. Just who was the mysterious Jones? Was he getting assistance from the famed detective? Would Holmes's network of ragtag street team show up? How would Moran figure into it all? Horowitz keeps the classic wit and mystery of the original tales alive in this thrilling story all while introducing us to American Pinkerton detective, Frederick Chase, somewhat astonished by everything he sees in Europe.
Moriarty
is a fascinating, quick read that shows just what a talent Horowitz is. If you have ever doubted that anyone could add to the classics, this story proves that a new story can indeed live up to the originals and that Anthony Horowitz is the man for the job.
Happy Reading!