Festive Fiction: Miracle on 5th Avenue by Sarah Morgan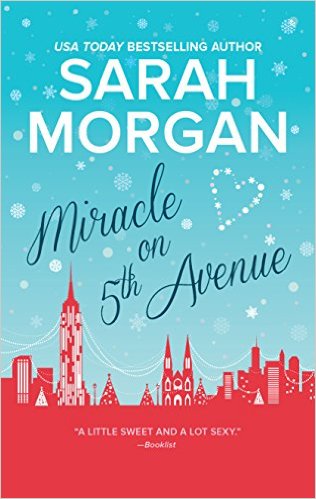 Miracle on 5th Avenue
Sarah Morgan
Copyright 2016
Harlequin Books
ISBN: 9780373789344
Genre: Contemporary Romance, General Market, Mass Market Paperback
The Story:
It will take a Christmas miracle for two very different souls to find each other in this perfectly festive fairy tale of New York!
Hopeless romantic Eva Jordan loves everything about Christmas. She might be spending the holidays alone this year, but when she's given an opportunity to house-sit a spectacular penthouse on Fifth Avenue, she leaps at the chance. What better place to celebrate than in snow-kissed Manhattan? What she didn't expect was to find the penthouse still occupied by its gorgeous—and mysterious—owner.
Bestselling crime writer Lucas Blade is having the nightmare before Christmas. With a deadline and the anniversary of his wife's death looming, he's isolated himself in his penthouse with only his grief for company. He wants no interruptions, no decorations and he certainly doesn't appreciate being distracted by his beautiful, bubbly new housekeeper. But when the blizzard of the century leaves Eva snowbound in his apartment, Lucas starts to open up to the magic she brings…This Christmas, is Lucas finally ready to trust that happily-ever-afters do exist?
My Thoughts:
Cheesy, sappy, and corny are a few words that I use to describe most of the Christmas themed books and movies I've read or watched in my lifetime. It's not as bad as it sounds. Really, who wants to be sad or depressed during the holidays? It's hard to be sad when you're laughing at cornball antics or too peppy heroines.
Miracle on 5th Avenue
by Sarah Morgan is one of those Christmas novels that just has those light-hearted, feel good vibes that are perfect for the holiday season. Eva Jordan is the most up beat, romantic I've ever met in a book. Her story is straight up sugar on a stick, dipped in chocolate, and topped with a cherry. Sweet, sweet, sweeeeet! It literally made no sense to me, but somehow I enjoyed it. Who lets a stranger invade their apartment and move in in this age of crazy psychopaths? Apparently, a hunky crime writer with Richard Castle vibes who goes by the name of Lucas Blade, that's who! If this book doesn't become a Lifetime Christmas movie (it's too sexy to be a Hallmark movie 😉), I'll be totally surprised.
If you're in the mood for a fun, sexy read for the cold, winter days leading up to Christmas, this book is a great choice.
Miracle on 5th Avenue
might not make a lot of sense, but is as satisfying as a romp in the snow and a hot latte! This book is definitely a good stocking stuffer for the romance lovers in your life!
~ My Rating: 3 out of 5 stars ~
*I receive complimentary books from publishers, publicists, and/or authors. I am not required to write positive reviews. The opinions I have expressed are my own. I am disclosing this in accordance with the Federal Trade Commission's 16 CFR, Part 255.*
Happy Reading!