Book Review: Thicker than Blood by C.J. Darlington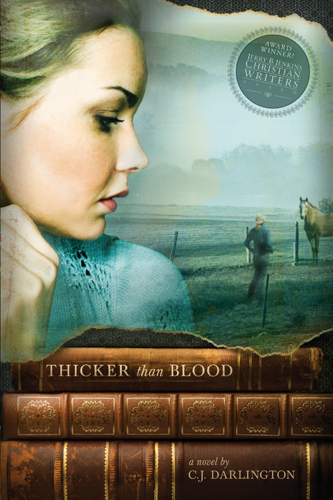 Thicker than Blood
by C.J. Darlington
January 2010
Tyndale Pblishers
385 pages
ISBN: 978-1-4143-3448-6
Fiction/Christian/General
From the
publisher
:

Christy Williams finally has her life on track. She's putting her past behind her and working hard to build a career as an antiquarian book buyer. But things begin to unravel when a stolen Hemingway first edition is found in her possession, framing her for a crime she didn't commit. With no one to turn to, she yearns for her estranged younger sister, May, whom she abandoned after their parents' untimely deaths. Soon, Christy's fleeing from her shattered dreams, her ex-boyfriend, and God. Could May's Triple Cross Ranch be the safe haven she's searching for? Will the sisters realize that each possesses what the other desperately needs before it's too late?
My Review:
WOW! All I can say is wow! I can not believe that this is CJ Darlington's first book, it is that good! I started it a few days ago and had to set it aside but once I picked it up again today to read I could not put it down. It is highly unusual for me to be so engrossed in a book that is not a romance. I'm embarrassed to admit it but facts are facts.
Christy Williams, the main character is terrific. She's flawed. She smokes, she drinks, and she has a past not unlike a lot of people today. She's not by any means perfect. Her sister, May who Christy thinks is probably perfect but is far from it has to deal with her older sisters abandonment and the struggle with forgiveness. And the secondary characters especially Jim and Vince really add to this story! Just because I said that they add to the story doesn't necessarily mean that they are good people by any means! One is but one isn't, you'll have to read to find out who and when you do you he will give you the shivers just like he did me. It's not too often I can say that about a character in a book but I'm saying it now.
DEFINITELY read
Thicker than Blood
if you like Christian fiction. You will be missing out on a terrific story if you don't read it. It has a very strong faith message, if you don't like that kind of thing you might not like this book.
To learn more about CJ Darlington visit:
Her WEBSITE
Her BLOG
*I received my free copy from the publisher, Tyndale through their review program.*