3 Movie Reviews: In Theatres, New to DVD, and a Classic!
I thought it would be cool since it's Friday to review 3 movies that I saw this week, two for the first time and one for about the 10th time. Whether you're looking for a movie to check out in the theatre or one to snuggle up to Ben and Jerry's with at home here are 3 suggestions!
At the Movies: Knight and Day
From the first time I saw the previews I thought this movie looked like an interesting action/ comedy and I was right. While there weren't really any funny moments other than the ones that most of you have probably seen on the tv trailers for this film I still like it because of Cameron Diaz's character, June Havens. While she isn't the brightest bulb in the chandelier (but who would be with a million bullets flying at them?) she is one cool gal! She restores classic cars and is lugging car parts in her carry-on when she "accidentally" bumps into secret agent, Roy Miller! Oh and did I mention she has some serious driving skills and a sick vintage GTO? I'm one of those girls who watches a movie just for the car chases which this film has! In all seriousness this was a cute movie that both the guys and the gals will enjoy. Aside from being pretty unbelievable it was still entertaining. Not sure it's worth paying $12 to see but it's good.
**********************************************************
On DVD: When in Rome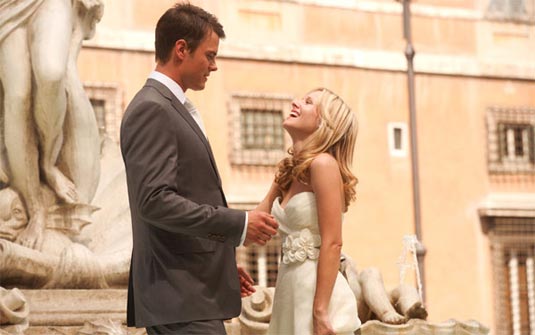 Yes, you know it, I am a sucker for the cheesy romantic comedy but sadly I haven't seen one in ages! This week, my cousin and I decided to check out
When in Rome
starring Kristen Bell and Josh Duhamel and we loved it! It was completely crazy (like most romantic comedies are) and some of it was set in Rome so there were some awesome shots featuring the area's beautiful architecture. Even though the acting was just okay and there was a plot goof at the end, I laughed pretty much the entire way through. There were a few times when I was creeped out by some of Beth's...uhhhh, I'll say ardent followers for lack of a better word but Nick and Umberto (my personal fave) made up for that! ;-) If you're looking for an hour and a half of light, fluffy romance you may want to rent this movie!
**********************************************************
Classic: My Best Friend's Wedding
I think I've seen every romantic comedy starring Julia Roberts and this movie is up there at the top of my list right as a favorite right under
Pretty Woman
(not a romantic comedy really but I included it) and
Runaway Bride
. I liked the fact that this movie **spoiler alert if you haven't seen it** didn't end with Jules getting the guy AND that the other girl, Kim, wasn't a terrible person! I also liked that Jules and Michael were best friends even after everything that Jules put them ALL through! The only thing that bothered me 'cause I'm a true romantic, Jules didn't get a happily every after. All in all this is a good movie and I really would like to see Julia Roberts in more romantic comedies like it.
***********************************************************