Waiting on Wednesday: Code Triage (Mercy Hospital, Book 3) by Candace Calvert

Jill over @
Breaking the Spine
hosts a weekly meme that features one book that you can't wait to be released! Be sure to visit Jill's site to see what she and other readers can't wait to get their hands on.
This week my pick is Code Triage, Book 3 in the Mercy Hospital series by Candace Calvert! I got an ARC of this story last week and let me tell you if you're a fan of this series you will not be disappointed! I really loved it and I can't wait till it's official release so I can get a copy with the beautiful full color cover!
Here's the (yummy) cover art and the blurb from the publisher: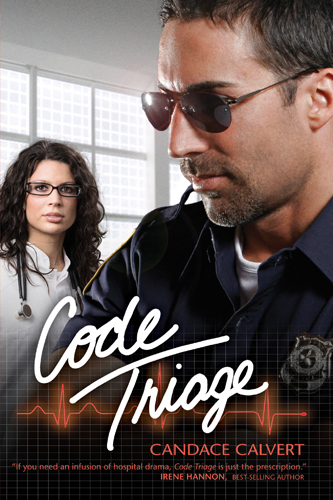 Dr. Leigh Stathos likes her ER shifts fast, furious, and adrenaline-infused—"Treat 'em and street 'em"—with no emotional complications. Life's taught her a soul-rending lesson: nothing lasts forever, including marriage. And the clock is ticking toward the end of hers. Then an unwelcome confrontation with "the other woman" begins a whole new set of lessons.

San Francisco police officer Nick Stathos never gives up, whether protecting his patrol neighborhood, holding fast to faith—or trying to save his marriage. Seven days is all he has to reach Leigh's heart. But when a desperate act of violence slams Golden Gate Mercy Hospital into lockdown, it starts a chain of events that will change lives forever.

If you haven't read Critical Care or Disaster Status, books 1 and 2 in the series I highly recommend them too!