Christian Fiction Review: Code Triage (Mercy Hospital, Book 3) by Candace Calvert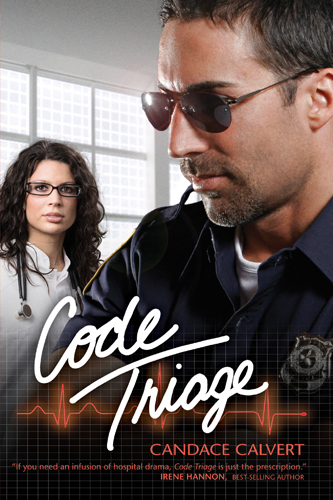 Code Triage (Mercy Hospital, Book 3)
by Candace Calvert
Copyright 2010
Tyndale House Publishers
384 pages
ISBN: 978-1-4143-2545-3
Contemporary Fiction
From the
publisher
:
Dr. Leigh Stathos likes her ER shifts fast, furious, and adrenaline-infused—"Treat 'em and street 'em"—with no emotional complications. Life's taught her a soul-rending lesson: nothing lasts forever, including marriage. And the clock is ticking toward the end of hers. Then an unwelcome confrontation with "the other woman" begins a whole new set of lessons.
San Francisco police officer Nick Stathos never gives up, whether protecting his patrol neighborhood, holding fast to faith—or trying to save his marriage. Seven days is all he has to reach Leigh's heart. But when a desperate act of violence slams Golden Gate Mercy Hospital into lockdown, it starts a chain of events that will change lives forever.
My Review:
I'm a huge fan of Grey's Anatomy but I haven't seen any of this seasons episodes yet but guess what? it doesn't matter.
Code Triage,
Book 3 in the Mercy Hospital series is all the medical drama and romance I need. If you're not normally a fan of dramas set in the ER you will be after you finish this book.
Leigh Stathos is a tough as nails doctor with everything under control, outside of the trauma zone it's a different story. Officer Nick Stathos has vowed to protect and serve and often goes beyond the call of duty. One mistake took its toll on Leigh and Nick's marriage to the point of divorce and a series of tragic events brings both face to face once again.
Drama, drama, and more drama is all I can think of to describe this story. Not only emergencies in the hospital and on the street but in relationships as well. Really one of the best things about
Code Triage
, which I've seen noted in a few other reviews is that it is a romance between a married couple. Most romances are boy meets girl, boy falls in love with girl, they get married, the end but not so with this book. As a reader you will see arguments, doubt and even the "other woman" so it's not the perfect fairy tale.
Candace Calvert is definitely one of my favorite contemporary fiction authors because of her ability to tell a fascinating story that is NEVER boring. I am always impressed with Candace and I'm going to miss Leigh, Nick and all the other characters from the Mercy Hospital world. I'm not sure Ms. Calvert will ever be able to top it!
To learn more about Candace Calvert and her books visit:
Her WEBSITE
Her BLOG
TWITTER
Facebook Fan Page
Also
click HERE
for the post from my birthday celebration to read Candace's answers to some of her favorite questions!
*I received my ARC from the author but was not obligated to provide a review.*