ARC Review: Rescue Team (Grace Medical, Book 2) by Candace Calvert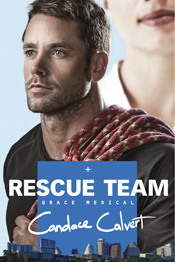 Rescue Team
(Grace Medical, Bk. 2)
by Candace Calvert
Copyright 2013
Tyndale House
ISBN: 9781414361123
The Story:
Tired of running from her past, nurse Kate Callison intends to become Austin Grace Hospital's permanent ER director and make Texas her home. Despite staff friction, she's moving ahead. Then unthinkable tragedy wraps the ER in crime tape, bringing swarms of media, legal chaos—and a search-and-rescue hero who seems determined to meddle in her life.
For Wes Tanner, nothing beats finding someone who's lost; he's known that helpless terror firsthand. So he'll expand his team's lifeline of hope: K9 tracking, swift water rescue, even horse-mounted searches. He's ready for anything—except Austin Grace's prickly and dismissive ER director.
As Kate and Wes discover more about each other, new respect becomes something deeper. Kate wonders if her heart might have finally found a home. Then an unsolved missing persons case—and a startling new one—become catalysts that threaten the loss of all she and Wes have found.
What I Thought:
I wish there were more medical dramas in the Christian fiction genre, especially if they are as well written and entertaining as Candace Calvert's always are. Once again the lives of ER personnel and the struggles they face not just at work but in their personal lives are brought to life in a way that's just as intriguing as an episode of E.R. or Grey's Anatomy. Instead of
Dr. McSnarly
(swoon) this time the hero is a hunky Texan (swoon again) engineer and well driller who moonlights as a search and rescue volunteer. Every aspect of this story had me flipping pages like crazy. From wanting to see what happened to "Baby Doe", to wondering whether or not a heart attack patient would survive, to a romantic scene beside the water
Rescue Team
it was pulse pounding entertainment in every sense. I thoroughly enjoyed this book and can't wait to read what happens next in the Grace Medical series.
~ My Rating: 4 out of 5 stars ~
To learn more about this series and the author visit Candace's website
HERE
.
Pre-Order Rescue Team -- releases May 1, 2013, from Tyndale Publishers.
*I received a complimentary ARC from the author in exchange for posting my honest opinion and review of the book.*