Surprised by Love (The Heart of San Francisco, Book 3) by Julie Lessman ~ My Review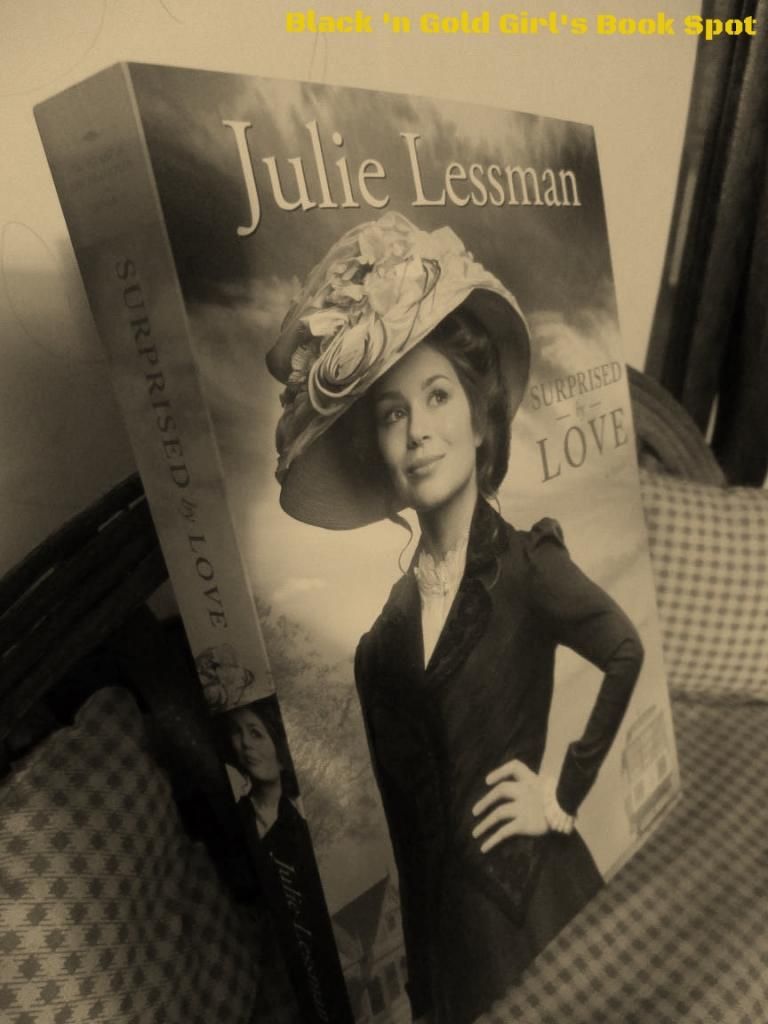 Surprised by Love
(The Heart of San Francisco, Book 3)
by Julie Lessman
Copyright 2014
Revell Books
ISBN: 9780800721657
The Story:
She can turn the head of the man who spurned her--but can she turn his heart?
When Megan McClare left San Francisco to study in Paris, no one would accuse her of being poised and pretty. But on the other side of the Atlantic, this wallflower blossomed into a beauty with big dreams. When she returns to California and accepts an internship at the district attorney's office, she's thrilled that her life is taking shape. But the exciting opportunity quickly loses its glow when she discovers she'll be working alongside Devin Caldwell, who mercilessly mocked her at school--and with whom she was hopelessly enamored.
Bram Hughes is the best friend to whom Megan has always turned for support and advice. But when she seeks his counsel about working with Devin Caldwell, Bram's vision is clouded by his sudden unwelcome attraction to a girl he had always thought of as a little sister. He advises forgiveness, but can he forgive himself for pushing the woman he loves into the arms of another man?
Author Julie Lessman draws a romantic triangle that will touch your heart in this glittering Gilded Age tale of transforming love.
To learn more about the book, visit
Julie's website
!
My review of Dare to Love Again (book 2) by Julie Lessman
My review of Love at Any Cost (book 1) by Julie Lessman
My Thoughts:
It's always easy for me to put together reviews for Julie Lessman's novels. Her books are some of the best in the Christian fiction genre. The most difficult thing for me to do most times is to limit my word count! I know readers don't like "wordy" reviews, but I can't seem to help myself!
As with any of her stories, there's a boatload of romance and passion in
Surprised by Love
, but this time there's just a little more drama! If you're like me you've been anticipating the end to the will they, won't they between the McClare family's matriarch, Cait and her first beau, Logan that started in the first book. Thankfully we get our answer. Whether or not it's a happy ending for these two or not, you'll have to read on to find out. You'll not get spoilers from me!
That said, I have to be honest and say I was more interested in Cait's story than in our heroine Megan's. As much as I adore Julie's stories (I'm seriously a #1 fan), this wasn't my favorite. I didn't really connect with Meg. I almost wish she had stayed plain and plump "Bug" instead of suddenly becoming this slim, beautiful woman who turns all the men's heads. I think a little too much importance was placed on her appearance. Without revealing too much, I did however love how her relationship with Bram evolved from a sort of hero worship as a girl to something a little more serious. Julie definitely does the family saga well! After the last page, I never leave disappointed with Julie's stories and this was no different. Even though the heroes and heroines of the Daughters of Boston series are my all-time favorites, the McClares are a-okay in my book!
~ My Rating: 4 out of 5 stars ~
*I receive complimentary books for review from publishers, publicists, and/or authors. I am not required to write positive reviews. The opinions I have expressed are my own. I am disclosing this in accordance with the Federal Trade Commission's 16 CFR, Part 255.*
Happy Reading!