Blog Tour and Review: Disaster Status (Mercy Hospital, Book 2) by Candace Calvert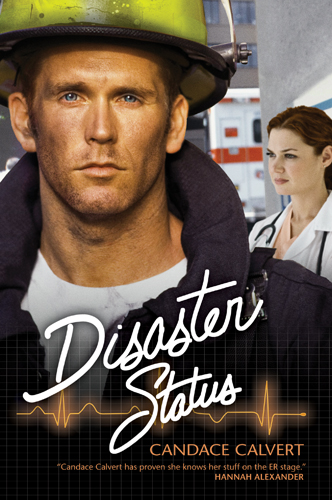 Disaster Status
(Mercy Hospital, Book 2)
by Candace Calvert
Copyright 2010
Tyndale Publishers
340 pages
ISBN: 978-1-4143-2544-6
Fiction/Romance
From the
publisher
:
Charge nurse Erin Quinn escaped personal turmoil to work on the peaceful California coast. But when a hazardous material spill places Pacific Mercy Hospital on disaster status and stresses staff, she's put to the test. And thrown into conflict with the fire department's handsome incident commander, who thinks her strategy is out of line.
Fire Captain Scott McKenna has felt the toxic effects of tragedy; he's learned to go strictly by the book to advance his career, heal his family, and protect his wounded heart. When he's forced to team with the passionately determined ER charge nurse, sparks fly. As they work to save lives, can they handle the attraction kindled between them . . . without getting burned?
My Review:
This is one of the books that I have been anticipating the most in 2010 and I was not disappointed in the least. I LOVED this book and let me say that's a miracle for me because I don't normally enjoy any kind of novels set in hospitals and the ER! I knew I had to read it when I saw the cover...whew call 911 'cause that guy is smokin' and what's great is the story in between the covers is terrific too!
Erin Quinn was first introduced in
Critical Care
(my review
HERE
) and I couldn't help but feel sorry for her getting her heart broken by a real sleazeball. I'm so glad she got her own "happy ending" in
Disaster Status
. And whew! who wouldn't love a hunky, brooding fire captain like Scott McKenna?! Combine these well rounded main characters with delightful secondary characters and a fish named Elmer Fudd and a yodeling Chihuahua, I couldn't help but be entertained.
As a former ER nurse herself it's easy to see that Candace Calvert knows her stuff. While the emergency scenes were accurate (to the best of my very limited knowledge) the terminology used wasn't over my head which I really appreciated. It made the story authentic and the little details like that, to me, are what makes for an all around awesome read! I can't wait to read what happens next in Book 3,
Code Triage,
but I will be VERY sad to see the end of this series.
To learn more about Candace Calvert and her books visit:
Her WEBSITE
Her BLOG
TWITTER
Facebook Fan Page
*I received my free review copy from Mavis Sanders @
Tyndale House Publishers
.*