Christian Fiction Review: Pursuit of Justice (Call of Duty, Book 3) by DiAnn Mills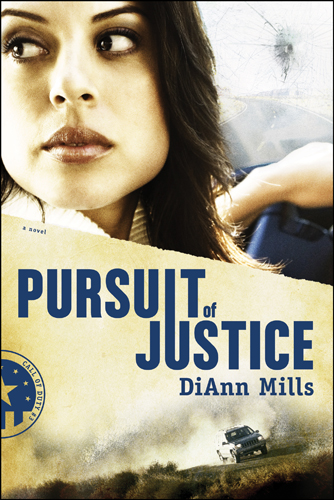 Pursuit of Justice (Call of Duty, Book 3)
by DiAnn Mills
Copyright 2010
Tyndale House Publishers
376 pages
ISBN: 978-1-4143-2052-6
Fiction/Romance/Suspense
From the
publisher
:

Special Agent Bella Jordan is assigned to investigate a series of murders in West Texas that are linked to the Spider Rock Treasure. Since she spent the first fifteen years of her life in this area, FBI authorities believe she can get the job done. What they don't know is that one of their prime suspects—a man who's been on their wanted list for years—is deeply connected to Bella's past.
The other prime suspect is Carr Sullivan, the man who owns the ranch where the murders occurred. Carr was once one of the wealthiest businessmen in Dallas and has a shady past a mile long. But it appears he's turned his life around. Can Bella trust him, or is he just trying to cover his tracks?
As Bella probes deeper into the case, threats on her own life convince her the killer is someone she knows. But it soon becomes clear he's not working alone, and she'll need to face the past she's tried so desperately to forget in order to solve the case and prevent more murders.
My Review:
I really enjoy DiAnn Mills' books whether historical romances or contemporary suspense, I'm rarely disappointed. Her latest book is
Pursuit of Justice
, the third installment of the contemporary suspense series, Call of Duty. While not as believable a story and not as much romance as the previous books I still enjoyed it.
First off if you have an aversion to reading about murder and corpses turning up you might want to steer clear of this story. It's not graphic but it's probably not for the most sensitive of readers. That said even though there were a lot of murders I felt that they were almost skimmed over. I don't like grisly stuff but I like to read details that involve CSI, forensics, and things like in suspense novels and that just wasn't present in this story. I will say this however, usually I can pick out the "bad guy" pretty quickly but Ms. Mills threw me off! I was genuinely surprised by who one of the villains turned out to be!
The characters themselves, Bella and Carr, weren't the most dynamic and original but still I had an interest in them and what would happen with their lives. I knew right away that Carr, the reformed bad boy/ladies man would be a favorite of mine and he was. Bella, was a tough as nails girl which is what one expects of an FBI agent so she didn't disappoint in that sense but I felt rather detached. She was almost too tough! While she finds redemption by the end of the story I felt that everything wrapped up too quickly. With the lifelong difficulties that she faced with her father which shaped her life, I felt that one or two chapters at the end didn't do them justice. Don't get me wrong I still enjoyed this book and DiAnn Mills is still a go to author of mine this just wasn't my favorite. I'm really looking forward to seeing what direction she takes with her next series.
To learn more about the author visit:
Her WEBSITE
* I received my complimentary copy from the publisher in exchange for posting my honest review.*