Blog Party Invitation!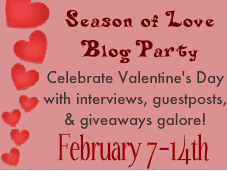 Hey Guys! Renee here with some great news from Amber @ Seasons of Humility...she's throwing a party to celebrate Valentine's Day with a Season of Love party February 7-14th! Check out the info below and go HERE to check out Amber's Season of Love page and to grab the "official" button to decorate your blog's sidebar and help spread the word!

Here are all the details taken from Amber's blog...if you look closely a certain someone will be hosting the party on the 13th with a special guest and quite possibly will be offering a superb giveaway!! ;-)

Who: Everyone is invited!

What: A progressive blog party

When: February 7th through the 14th

Where: Various blogs

Why: To celebrate the wonderful gift called love!

And here's a peek at the tentative schedule, with links to the blogs that will be featured each day:

--Monday, February 7th: Amber at Seasons of Humility--Interview with MaryLu Tyndall and a giveaway

--Tuesday, February 8th: Renee Ann at Doorkeeper--TBA

--Wednesday, February 9th: Casey at Writing for Christ--Interview with Kristin Billerbeck and a giveaway

--Thursday, February 10th: Hannah at Project Journal--TBA

--Friday, February 11th: Joy at Edgy Inspirational Romance--TBA

--Saturday, February 12th: Julia at Darkglass Ponderings--Interview with Jody Hedlund; "romantic" menu of recipes from a chef!

--Sunday, February 13th: Renee at Black 'n Gold Girl's Bookspot--Interview with Laura Frantz

--Monday, February 14th: Visit Seasons of Humility for a Mr. Linky listing of all the blogs writing a special Valentine's Day post; winners announced on the participating blogs
Remember to mark your calendars, you won't want to miss a day!