Blog Tour and Book review: The Courteous Cad (Miss Pickworth Series, Book 3) by Catherine Palmer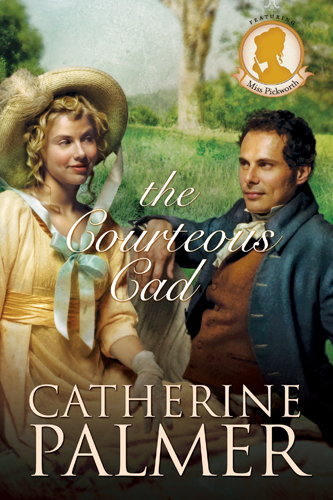 The Courteous Cad (Miss Pickworth Series, Book 3)
by Catherine Palmer
Copyright 2009
Tyndale Publishers
392 pages
ISBN: 978-0-8423-7555-9
Fiction/Romance
From the
publisher
:
On her tour of the English countryside, a chance encounter in the streets alerts Miss Prudence Watson to the inhumane working conditions at the worsted mill. She learns that the owner is William Sherbourne, a Royal Naval officer just returned from sea. Following in his wake is his reputation as a cad and a secret so ghastly he'll do anything to protect it. Even worse, he's handsome and charming and not at all the villain Prudence expected him to be.
My Review:
I love Catherine Palmer's work and was super excited to learn that book 3 in the Miss Pickworth series was finally being released. It was worth the wait!
The Courteous Cad, William Sherbourne is my favorite of Ms. Palmer's heroes, he's handsome, he's got chocolate brown eyes and most importantly he's a rogue! I have a thing for rogue's...but only in fiction of course. William's rather sordid past certainly made for some interesting story telling. Paired with his complete opposite in Miss Prudence Watson, you can definitely tell right from the first chapter that sparks will fly! And fly they did...I began to get frustrated with their like/dislike relationship! I wanted to shout "Come on already!" but I got used to it after a while and was satisfied with the ending.
If you don't like a "preachy" story you might not like this but it IS Christian fiction so that can be expected. This is a chaste regency romance, while it could be read on it's own I recommend reading the first 2 books,
The Affectionate Advisary
and
The Bachelor's Bargain
to help you get to know the other characters in
The Courteous Cad
better.
To learn more about Catherine Palmer and her books visit:
Her WEBSITE
Her BLOG
*I received this book free from the publisher to review.*