Blogaversary Celebration Day Two: Candace Calvert, Author of Critical Care and Disaster Status
I am thrilled beyond belief to have Candace Calvert author of the terrific book, Critical Care and the soon to be released Disaster Status, as my guest today! Candace has kindly offered to share a little bit about herself and her books including an excerpt from Disaster Status and an AWESOME giveaway to one lucky reader! Read on for the details! :-)
Here's Candace:

"Hi Renee—congratulations on your Blogaversary, and kudos to you on the exciting celebration that you're hosting. It's wonderful to be here among such stellar authors—and good friends. Hello Janet, Cerella, Laura, and Julie!
As part of the celebration, I'm excited to offer a
signed copy
of both
Critical Care
and
Disaster Status,
inviting your readers to "scrub in" with my exciting new Mercy Hospital series for Tyndale House."
+++
Reviews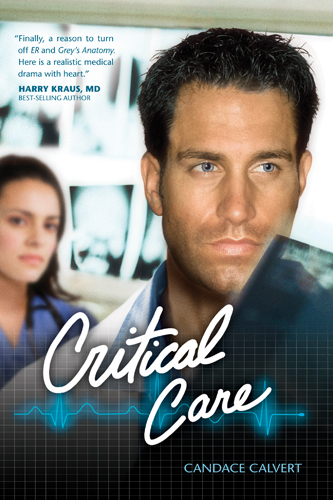 "Candace Calvert knows her stuff on the ER stage. Excellent writing, appealing characters . . . honest portrayal of human emotions. . . a great read . ."
--Hannah Alexander, author of A Killing Frost, the Hideaway Series
"
Disaster Status
grabs the reader from its opening pages to its riveting end. Compelling characters keep you turning the pages . . ."
-- Margaret Daley, author of Forsaken Canyon and Together for the Holidays
"Candace Calvert succeeded in thrilling me, chilling me, and filling me with awe and respect for ER trauma."
--DiAnn Mills, author of Breach of Trust

+++
And now I'm delighted to offer a preview of
Disaster Status
, the soon-to-be released second book in the Mercy Hospital series:
From the back cover:
Cha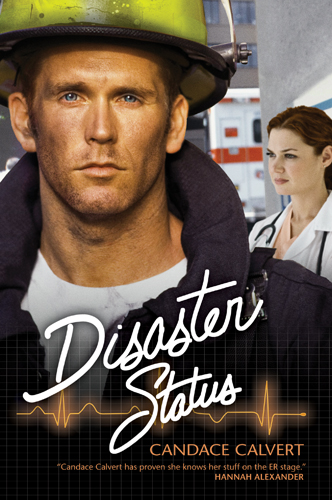 rge nurse Erin Quinn escaped personal turmoil to work on the peaceful California coast. But when a hazardous material spill places Pacific Mercy Hospital on disaster status and stresses staff, she's puts to the test. And thrown into conflict with the fire department's handsome incident commander who thinks her strategy is out of line.
Fire Captain Scott McKenna has felt the toxic effects of tragedy; he's learned to go strictly by the book to advance his career, heal his family, and protect his wounded heart. When he's forced to team with the passionately determined ER charge nurse, sparks fly. As they work to save lives, can they handle the attraction kindled between them . . . without getting burned?
(Excerpt From Disaster Status, Chapter One. Hero and Heroine meet for the first time)
When Erin turned in to the hospital parking lot, she realized she'd forgotten her name badge. Good thing security knew her. Her eyes widened as she approached the ambulance entrance. She braked to a stop, her mouth dropping open as she surveyed the scene at the emergency department's back doors: four dusty and battered trucks—one indeed a flatbed—at least three news vans, a fire truck, an ambulance, and several police cars. She quickly put the Subaru in park, then opened her door and squinted up at the sky. Oh, c'mon, was that a helicopter? A plane crash wasn't big enough news today?

Several nurses stood outside the doors holding clipboards and dispensing yellow plastic emesis basins to a restless line of a least a dozen patients in long sleeves, heavy trousers, and work boots. Including one elderly man who seemed unsteady on his feet as he mopped his forehead with a faded bandanna. A young uniformed firefighter paramedic, the husband of their ER triage nurse, was also helping out. Good, Erin's request for extra manpower had been accepted.

Reporters in crisp khakis and well-cut jackets leaned across what appeared to be a hastily erected rope-and-sawhorse barricade. It was manned by a firefighter in a smoke-stained turnout jacket with the broadest shoulders she'd ever seen. And an expression as stony as Rushmore.

Erin locked the car, grabbed her tote bag, and jogged into the wind toward the barricade, trying to place the daunting firefighter. Tall, with close-cropped blond hair, a sturdy jaw, and a rugged profile. He turned, arms crossed, to talk with someone across the barricade, so she couldn't see all of his face. But he wasn't a full-time medic; she knew them all. An engine company volunteer? Maybe, but she hadn't met him. She was sure of that. Because, even from what little she'd seen, this man would have been memorable. Her face warmed ridiculously as she slowed to a walk.

But her growing curiosity about his identity was a moot point. There wasn't time for that now. She needed to slip between those sawhorses, hustle into the ER, touch base with the relief charge nurse, brainstorm with Leigh Stathos, and see what she could do to help straighten out this mess.

Erin stopped short as the big firefighter turned abruptly, blocking her way. "Excuse me," she said, sweeping wind-tossed hair from her face as she peered up at him. Gray. His eyes were granite gray. "I need to get past you. Thanks. Appreciate it." She attempted to squeeze by him, catching a faint whiff of citrusy cologne . . . mixed with smoke.

"Don't thank me. And stop right where you are." He stepped in front of her, halting her in her tracks. There was the slightest twitch at the corner of his mouth. Not a smile. He crossed his arms again. "No one can come through here. Those are the rules. And I go by the book. Sorry."

By the book? As if she didn't have policies to follow? Erin forced herself to take a deep breath. Lord, show me the humor in this. Called to work on her day off and then denied access. It was funny if you thought about it. She tried to smile and managed a pinched grimace. This was about as funny as the mold in her shower. She met his gaze, noticing that he had a small scar just below his lower lip. Probably from somebody's fist.

"I work here, Captain . . . McKenna," Erin explained, reading the name stenciled on his jacket. "In fact—" she patted the left breast pocket of her scrubs, then remembered her missing name badge—"I'm the day shift charge nurse. But I forgot my badge."

"I see," he said, uncrossing his arms. He pointed toward the trio of reporters leaning over the barricade. "See that reporter over there—the tall woman with the microphone and bag of Doritos? Ten minutes ago she pulled a white coat out of one of those news vans and tried to tell me she was a doctor on her way to an emergency delivery. Premature twins."

"But that's unbelievable. That's—"

"Exactly why I'm standing here," the captain interrupted. "So without hospital ID or someone to corroborate, I can't let you in."

Her jaw tightened, and she glanced toward the ER doors. "One of your paramedics is back there somewhere; Chuck knows me. He's married to my triage nurse. Find him and ask him."

McKenna shook his head. "Can't leave this spot."

"Then call." Erin pointed to the cell phone on his belt. "Better yet, ask for Dr. Leigh Stathos. Tell her I'm here. She'll verify my identity. The number is—"

"I've got it," he said, lifting his phone and watching her intently as he made an inquiry. He gave a short laugh. "Yes. A redhead in what looks like Army fatigues . . . Ah, let's see . . . green eyes. And about—" his gaze moved discreetly over her—"maybe five foot nine?"

Erin narrowed her eyes. What was this, a lineup?

The captain lowered the phone. "Your name?"

"Erin Quinn," she said, feeling like she should extend her hand or something. She resisted the impulse.

"Hmm. Yes," he said into the phone. "I see. Okay, then." He cleared his throat and disconnected the call.

She looked at him. "Did you get what you needed?"

"Well," he said, reaching down to detach the rope from a sawhorse, "it seems you're who you say you are. And that I shouldn't expect a commendation for detaining you. Apparently it's because of your request that I'm here. Not that I wanted to be. I still have men out on the plane crash, but . . ." He hesitated and then flashed the barest of smiles. Though fleeting, it transformed his face from Rushmore cold to almost human. "Go on inside, Erin Quinn. You're late." His expression returned to chiseled stone. "And for what it's worth, I'm sorry. But that's the way this has to work."

"No problemo." Erin hitched her tote bag over her shoulder and stepped through the barricade. Then she turned back. "What's your first name, McKenna?"

"Scott."

She extended her hand and was surprised by the warmth of his. "Well, then. Good job, Scott. But going by the book isn't always the bottom line. Try to develop a little trust, will you? We're all on the same team."

Copyright 2010, Candace Calvert, Tyndale Publishers

Thank you for having me, Renee. And I so look forward to signing a copy of Disaster Status and Critical Care for your readers. Happy Blogaversary—and many more!

Blessings,
Candace
+++
Disaster Status,
Book Two of the Mercy Hospital Series by Tyndale House. Releasing on or before April 1st:
ChristianBook.com
Barnes& Noble
Amazon
Former ER nurse Candace Calvert gives readers a chance to "scrub in" on the exciting world of emergency medicine. Her new Mercy Hospital Series for Tyndale House offers charismatic characters, pulse-pounding action, tender romance, humor, suspense--and an encouraging prescription for hope. Think "Grey's Anatomy finds its soul." CRITICAL CARE, June 2009.
DISASTER STATUS, April 2010, CODE TRIAGE, September 2010.

Visit her website at: http://www.candacecalvert.com/

Join her FaceBook Fan page (book chat, updates, giveaways!) at: Candace Calvert Books

Follow her on Twitter!
~ If you would like to be entered to win a signed copy of BOTH Critical Care and Disaster Status just leave a comment telling me your favorite TV show or book that features doctors, nurses, police officers, or firefighters!
~You MUST leave an email address in your comment so I can contact you for your mailing address if you win! (example: steelergirl83[at]gmail[dot]com )
~U.S. residents only please!
~Contest open until March 21, 2010 at 11:59PM EST.
~One winner will be chosen, their name posted on this blog, and they will be notified by email on March 22, 2010 and will have 48 hours to respond or another winner will be selected.

Don't forget to go here to read about Janet Dean and mail order brides and to enter for a chance win her book, The Substitute Bride!

Also go here for a chance to win The Yellow House by Patricia Falvey and Beguiled by Deeanne Gist and J. Mark Bertrand!